Another year drawn to a close. 2010, perhaps the year of the Hipster where counter-culture and 1990's influenced "Indie" music became mainstream. Of course, a lot of questionable music exists but in my opinion current trends spawned a bounty of creative and off-beat music that has been more than worth listening to. Strong albums by North American bands.
The Electric Tongue presents the top 30 albums as I've enjoyed them.
30. The Acorn - No Ghost (Paper Bag Records)
An Ottawa, Ontario Indie-Folk rock band that continues to put out solid albums full of songs that move along at an unhurried pace although a few songs are definitely up-tempo. Singer, songwriter and guitarist, Rolf Klausener is the gem here. Great voice.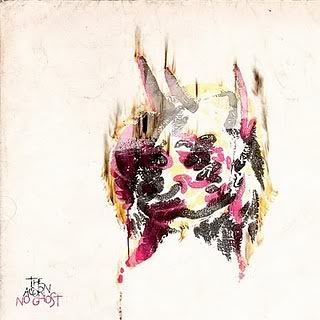 http://www.youtube.com/watch?v=Fg136f0tIVw&feature=related
29. Born Ruffians - Say it ( Warp Records)
Indie rockers from Ontario, who've toured extensively this year all over the world with their quirky, disjointed, yelping and most of all, fun music.
http://www.youtube.com/watch?v=-tFDF1rwUO8
28. Oh My Darling - In the Lonesome Hours (Independant)
Four hard working, stylish women from Winnipeg, Manitoba belting out old time Bluegrass and Folk music mixed with original songs that draw from life experiences both sweet and sour. Banjos, bass, fiddle and guitar a-plenty.
http://www.youtube.com/watch?v=JUsytEjNssY
27. Flying Lotus - Cosmogramma (Brainfeeder/Warp Records)
Experimental multi-genre music producer and trendsetting laptop musician from California releases his third album. Radiohead's Thom Yorke, a fan, guests on one of the tracks.
http://www.youtube.com/watch?v=yXdwb_lUKvs&feature=related
26. Women - Public Strain (Flemish Eye/Jagjaguwar)
Calgarian Art-Rock band receiving high praise from critics, touring Europe, US and Canada in support of their second album. Catchy, brittle, dry and interesting tunes.
http://www.youtube.com/watch?v=jsmwy_ZU6zQ
25. Frankie Rose and the Outs - Frankie Rose and the Outs (Slumberland Records)
Frankie Rose, former Vivian Girls member and current noise pop afficianado teamed with her band, release their debut with nods to My Bloody Valentine and Talulah Gosh. Their single "Candy" easily gets stuck in your head.
http://www.youtube.com/watch?v=FIs-NZ5Hsg4
24. Royal Canoe - Co-op Mode (Head In the Sand)
Infectious Winnipeg Indie Rock, an album highlight is their love song between a chess playing computer and Garry Kasparov.
http://www.youtube.com/watch?v=l3riQpgKFeY
23. Kanye West - My Beautiful Dark Twisted Fantasy (Roc-A-Fella Records)
He's Kanye and he's put out a very strong album, love him or hate him. I suppose this is his "Rock Opera" tale of love between him and a female alien bird.
http://www.youtube.com/watch?v=1uS96qqF9Gg
22. Perfume Genius - Learning (Matador/Turnstile)
Delicate Roots/Indie Folk music from Seattle, best summed up as 2010's answer to Bon Iver. Perfect listening for a rainy day at the cabin.
http://www.youtube.com/watch?v=_mqbl2oaKa8
21. The National - High Violet (4AD)
5th album for this Cincinatti band, less lo-fi than other offerings, more lush and literate rock.
http://www.youtube.com/watch?v=yfySK7CLEEg
20. Mark Ronson & The Business Intl - Record Collection (Columbia Records)
Catchy, catchy, catchy party music. Third album by the musician/producer Mark Ronson, and the first one under the moniker of The Business Intl. Great production and a slew of guest spots from Q-Tip, MNDR, Simon Le Bon, D'Angelo, Boy George, Ghostface Killah and others.
http://www.youtube.com/watch?v=TM6TCGltfHM
19. Crystal Castles - Crystal Castles (Fiction)
Electronic, New Wave, Dance. It's all of these things and a hell of a good combination. Second self titled album from Crystal Castles.
http://www.youtube.com/watch?v=JITI0FskSG0
18. Holy Fuck -Latin (Young Turks)
Toronto band that uses live instrumentation and miscellaneous instruments and non instruments (35mm film synchronizer and phaser guns) to achieve electronic sounds sans computer or looped tracks. A great live show.
http://www.youtube.com/watch?v=0I0VqslEDCQ
17. The Sheepdogs - Learn and Burn (Independent)
Scraggly hair and Scruffy beards, these Saskatooners are creating some great revival rock, heavy nods to the 70's.
http://www.youtube.com/watch?v=DvCq2hmlasM
16. Hot Panda - How Come I'm Dead? (Mint Records)
Named after a chinese food restaurant in Edmonton. A 4 piece band from Western Canada putting out some truly weird and unique music that I've enjoyed a lot this year.
http://www.youtube.com/watch?v=zis8kjR27-8
15. Best Coast - Crazy For You (Mexican Summer)
2010 saw the trendy revival of surf rock. Best Coast is from LA and no doubt this album will appear on a lot of "Best of" lists this year. Fuzzy, lo-fi, female fronted and a solid album from start to finish. Fun!
http://www.youtube.com/watch?v=8Sj5_WITMpA
14. Crocodiles - Sleep Forever (Fat Possum)
Indie Rock/Noise Pop band from San Diego, arguably part of the surf rock revival of 2010. Also taking influences from The Jesus and Mary Chain, Echo and the Bunnymen and Spaceman 3. Curiously signed to Fat Possum, Epitaph Record's home to Blues Rock.
http://www.youtube.com/watch?v=5GQh-P6wEjo
13. Surfer Blood - Astro Coast (Kanine Records)
Hailing from the other side of the coast this time, West Palm Beach, Florida rockers comparable to Weezer, Pavement and Built to Spill. Again, one of the more popular "Surf Rock" revivalists of this year. Picture summer time, in a convertible with the top down.
http://www.youtube.com/watch?v=63Ji05Bd-t0&feature=related
12. The Drums - The Drums (Moshi Moshi/Island Records)
Hailing from Brooklyn, New York. These guys created quite a buzz overseas before their album was even released. Not surprising as their major influences are The Smiths and Joy division. The band also list reverb as the reason they exist. Quirky frontman.
http://www.youtube.com/watch?v=MUubQj7g56E
11. Beach House - Teen Dream (Sub Pop)
Third album by the Baltimore Dream Pop band heavily influenced by Shoegaze, the rock movement titled to bands who spend a lot of time looking at their feet, pressing effects pedals to add sonic wall of sound elements to their guitars. Also drawing comparisons to Nico.
http://www.youtube.com/watch?v=Zw5hkqTiAPI
10. The Black Angels - Phosphene Dream (Blue Horizon Ventures)
Psychadelic Rock from Austin Texas drawing influence from The Velvet Underground. Dark tones and Lyrical content. If you are a fan of Black Rebel Motorcycle Club, you'll love these guys.
http://www.youtube.com/watch?v=h6ZTAA8Nxdo
9. Deerhunter - Halcyon Digest (4AD)
Self described as Ambient Punk, you can also label them as Post-Rock. The band stated their album's title is a reference to a collection of fond memories and even invented ones. You can hear their single "Revival" pumping out of American Apparel clothing stores, everywhere. Don't let that discourage you.
http://www.youtube.com/watch?v=8b0fDIPP-u4
8. The Like - Release Me (Downtown)
60's influenced female fronted rock full of hooks that makes you want to dance. Not a stinker to be found on this album, I have trouble picking a favourite track.
http://www.youtube.com/watch?v=42p2nERiNFk
7. MGMT - Congratulations (Columbia Records)
American Psych rockers who vowed to put out an album without singles to follow up their 2008 commercially successful debut. Enjoyable from start to finish, and contains an ode to Brian Eno. Their track "It's working" is definitely one of my favourites of the year.
http://www.youtube.com/watch?v=JyaDTiXH3R4
6. Darwin Deez - Darwin Deez (Lucky Number)
Full of hooks and handclaps, I can't stop listening to this album. American Folk Pop band from Brooklyn NY.
http://www.youtube.com/watch?v=37sKI7d7-xA
5. Caribou - Swim (Merge/City Slang)
Dan Snaith is Caribou, formerly recording under the name "Manitoba" until a lawsuit made him shed that name, is a mathmetician by trade. Born in Ontario but currently residing in England. "Swim" is an album of organic electronic pop that really hit home with me this year. Also, the best live show I've seen this year, as he tours with a full band.
http://www.youtube.com/watch?v=jscemjgJ29c
4. Twin Shadow - Forget (Terrible Records)
A new wave band from the city that continually pumps out great bands, NYC. The lead singer also takes the prize for best hair by a pop star this year. Bedroom recorded music that draws heavy influence from The Smiths and The Cure. Wow, so good! Seems to have flown under the radar, somehow.
http://www.youtube.com/watch?v=9Uy4odKfFiM
3. Gorillaz - Plastic Beach (Parlophone/Virgin Records)
Chock full of cameo appearances from well known, up and coming and forgotten artists. Damon Albarn continues to pump out great music with chameleon like charm well into his early fourties. Even features Bruce Willis in the video for "Stylo". The only album to contain both Lou Reed and Bobby Womack.
http://www.youtube.com/watch?v=LMnrFiG8FRo
2. Tame Impala - Innerspeaker (Modular Recordings)
A 4 piece psych rock band from Perth Australia that is influenced heavy by Cream and The Beatles. Probably what The Beatles would sound like with today's technology. Came from out of nowhere and is one of my most played albums of the year, easily.
http://www.youtube.com/watch?v=bBSropdYqtY
1. Arcade Fire - The Suburbs (Merge/Mercury Records)
Montreal rockers fronted by a husband and wife duo. A band full of humble musicians who all take turns sharing the spotlight at their live shows and wow, what a live show. Brilliant album and a great career so far.
http://www.youtube.com/watch?v=9oI27uSzxNQ